How is it possible for a domain of tech to revolutionize a nation of our size. It is indeed a pretty bold statement to make right? While as intrepid it may sound, let me tell you, this dream is not far fetched. In this blog post, we discuss how fintech is leading this war against inequality from the forefront. We have discussed in the past that the key reason for not investing your money is not the lack of money itself. It is rather the non existence of financial literacy in our curriculum. The money you earn is irrelevant when it comes to the question weather or not to invest. You simply have to follow certain rules and finally end up saving certain part of your income. It may be small initially, but compounding will show it's magic sooner than later.
Coming back to our topic of financial inclusion. About a couple of decades ago, the access to high return financial instruments was not easy. Our parents either invested in FDs or some government backed schemes. Some lucky ones had a CA friend who helped them in accounting cum investing. These 'investors' simply took a leap of faith on the basis of the trust and prayed. When they suffered a loss, they further alienated themselves from the equity and markets. But this is now changing, and changing fast.
Similarly, women simply were considered to be passive investors. They did invest but only basis the advice of their parents/husband. There is a lot of ground to cover here as well, but we are off to a good start. Women folk have realized the power of managing their own finances and have been successfully doing it for a while now.
What Is Financial Inclusion?
Financial inclusion refers to efforts to make financial products and services accessible and affordable to all individuals and businesses, regardless of their personal net worth or company size. Financial inclusion strives to remove the barriers that exclude people from participating in the financial sector and using these services to improve their lives. It is also called inclusive finance.
Anecdotal Examples of Financial Inclusion:
Far remote, in a small town of Kanakkegiri in Hubli, there's a woman who sells fish. Business is booming and she is unable to catch up with the demand. She needs to buy more fish for which, she would need a larger capital. She taps into a lending platform like ePayLater and is able to get some credit for a couple of days. Customers visit her shop and buy the fish. They pay her using UPI or card. She clears her debt in the evening and uses her profit to order groceries online. For her, this is a huge progress.
On the other hand, there is a local industrialist in the town of Meerut. He manufactures oil which is applied on hands after Mehandi (Heena) is put on them. The peak season is just around the corner and one of his machines breaks down. Waiting to get the machine fixed would be a huge sales loss. So he calls up the bank for a quick loan. However, bank is not interested in smaller clients and schedules an appointment way after Diwali. At that time, a friend of his, recommends an online lender. Without even taking piles of printouts, the industrialist manages to get some credit to keep his business running.
These two tales are becoming a reality of every Indian. People who were once afraid of technology are now embracing it and leveraging it to become a better version of themselves.
How did Fintech become Mainstream?
I am sure that above stories would have convinced you regarding the change that we are seeing in the world today. But what are the underlying reasons behind it? How has to adoption been monumental?
1. The Financial Knowledge
With the evolution of fintech, our relationship with money has changed. For our grandparents, money was a vice. They never wanted more than they could spend. While our parents, never equated more money to more problems, they loved to keep it to themselves. In the almirahs, bed boxes, suitcases etc. There was too much fear of losing the money.
Rarely did they realize that they are losing money anyway by keeping it with themselves in physical format.
Today's generation is different. We are not afraid to stay virtual. I always preferred digital modes of payment, but after pandemic, I have not visited ATM even once in last one year. Our maid also accepts payments using Google Pay.
This has become possible only because of the financial awareness these platforms have focused on in tandem. They have leveraged our content consumption habits and come up with innovative ways to teach us more.
I never used to read books, but Audible forced me to listen to Rich Dad, Poor Dad. Ever since, my perception of money has changed.
Today, we see financial bloggers, influencers, stock market traders running their YT channels to educate us. This content has been a huge hit.
2. Ease of Usage:
My grandfather worked for a government bank. A few months ago when I was in my hometown, he cared to explain the process of cheque clearing. There was clerk who accepted your cheque and verified it's details. Later, it was sent through another level of validation, hence an additional manpower. Finally, it was sent to the bank where it was supposed to be credited. This was done by an additional resource who collected the cheques for the day in the evening. The entire cycle took 5-7 working days.
Back to 2021, you pay using your phone in under 30 seconds. There is no person involved in your transaction at all. The adoption has been so gigantic that now, not having a digital payment mode on your shop will lead to sales loss.
Let's take another example of investing. Once my father got a bonus and wanted to invest in a mutual fund. Both of us travelled from Amritsar to Jalandhar (80Kms) to meet a friend of his. We had breakfast, and got into the discussion of where to park our money matters. About an hour later, a series of documentation began. PAN Card, 5-6 forms, tons of signatures, a couple of photographs later, we were told that our investment would take 15 days to start.
Back to 2021, when was the last time you invested in SIPs? I am sure it must not have taken more than 15 minutes to get started.
Government Initiatives:
1. Project Financial Literacy
The Objective of the project is to disseminate information regarding the central bank and general banking concepts to various target groups, including, school and college going children, women, rural and urban poor, defense personnel and senior citizens. In the post pandemic world, a lot of this would be done through the platforms which are enabled digitally and are the extensions of a fintech product.
2. Increased Access to Banks
According to the World Bank's Global Financial Inclusion Database or Global Findex report (2017), 80% Indian adults have a bank account against the 53% estimated in 2014.

The Findex 2017 report also estimates that 77% Indian women have bank accounts, against 43% in 2014.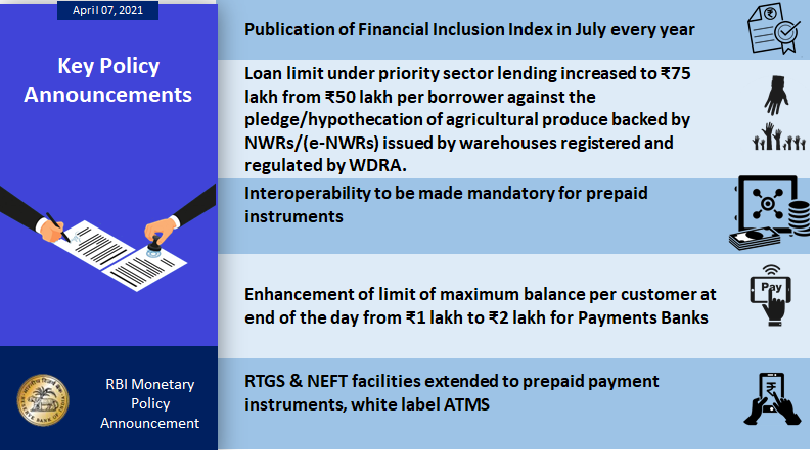 Setting up an environment where fintech would thrive was an uphill task for the government. Now that it has successfully managed to do it, leveraging the fintech big time is one of the key agendas. Here are some ways how this is being done:
3. Promotion of Digital Payments
With the strengthening of the Unified Payment Interface (UPI) by NPCI, digital payments have been made secure, compared to the past.
4. Reserve Bank of India (RBI) and National Bank for Agriculture and Rural Development (NABARD) have taken initiatives to promote financial inclusion in rural areas.
Issuing Kisan Credit Cards (KCC)
Increasing the number of automated teller machines (ATMs)
Business correspondents model of Banking, etc. i.e. leveraging fintech platforms for the banking.
RBI has also announced in it's latest monitory policy review that they would be coming up with with a periodic called "financial inclusion index".
Conclusion:
A good crisis should never go to waste. I think India Inc. is living by this quote and this pandemic has made us even stronger. With 11 startups hitting the elite unicorn club this year so far (as compared to 11 last entire year), I think "Apna time Aa gaya"
What are your thoughts on this?
Got questions? Want to take it to the next level? Reach out to me using your preferred platform from the links below
Until next time..
This blogpost is in association with Blogchatter's #BlogchatterA2ZChallenge